Blog
7 ways to spoil your dog on Christmas
by Candid Tails on Dec 21, 2021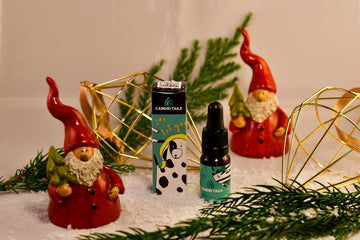 When it's the most wonderful time of the year, what else can you do but spoil your dog with Christmas presents. 
The best gift for dogs is giving them your attention, although a few treats and toys does not hurt either. Below we have listed some ideas to make your dog the happiest dog this Christmas. Of course, these suggestions depend on the type of dog you have, but we guarantee there is at least one your dog will love.  
Take a long walk in a new location

 
Instead of a small tour in the neighborhood or the park close by, see if you can take your dog on a new route. Maybe there is a forest you can go to or take a stroll on the beach. If this is not possible, you can walk the same path but in the opposite direction. By deviating from your usual routine, your dog will be more stimulated by their surroundings. 
     2.Chase after birds together 
If your dog is the type who likes to run after birds, find a nice area where you join in on the fun. Run with your dog instead of keeping them back. This is not limited to birds: it can be cats or ducks as well, anything that your dog likes to chase after. However, remember to stay in a safe environment so that you do not need to worry about anything happening or any cars.
      3.Visit a dog friend 
Do you have a friend who owns a dog? Or a local dog park? Visit your friend or an area with many dogs so your dog can have fun with them. This is a low difficulty gift from you, because you just need to bring your dog there and then let them have their fun.   
      4.Watch a dog movie  
Surprisingly enough, your dog can watch movies with you. Dogs have the ability to track movements across the screen. This means that while they do not understand what is happening, they can still watch and enjoy. Dogs are especially interested in movies with dogs, since they will hear dog sounds. Now, which movie to watch? There are many Christmas-themed dog movies such as "The Dog Who Saved Christmas" or "A Dog Named Christmas". If a classic dog movie is more your taste, you can watch "Hachiko", "Marley and Me" or "Eight Below". Or, if you prefer comedy movies, why not try "Hotel for Dogs" or "Marmaduke".  
      5.Give them a new toy 
All dogs love new toys. It can be a new squeaky toy, a new rope to pull on or just a nice stuffed animal they can snuggle with. Maybe your dog needs a new challenge, so you can get a toy where they need to work to get a treat out it. If possible, try to give your dog a new type of toy that they do not have yet. Although you need to remember, if you get your dog a new squeaky toy, you will be the one listening when they play with it.  
      6.Buy some different flavoured treats 
Getting a gift for your dog can also be as simple as this. Just try a different flavour of the food they always eat. Or buy a different flavour of dog treats. Maybe you can find an interesting looking bone they can spend a few hours chewing on. Whatever it is, giving your dog some variation of taste will make them incredibly happy. Just imagine if you had to eat the same food every day.  
      7.Get something that relaxes them 
This could be a nice blanket if they enjoy having a blanket with them. A new matt to lay on or basket to lie in. It could also be CBD oil, which is especially important around New Years since fireworks can be a major stressor. Or, if your dog loves baths, why not give then a nice relaxing bath with some dog friendly bath products.