⭐⭐⭐⭐⭐ 4.8/5 1500+ of happy pet owners
CBD for healthy Skin and Beautiful Coat
Come and explore the natural way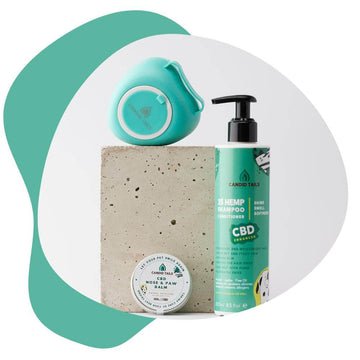 Sort by
Featured

Best selling

Alphabetically, A-Z

Alphabetically, Z-A

Price, low to high

Price, high to low

Date, old to new

Date, new to old
RETURNS AFTER 30 DAYS
No questions asked
FREE SHIPPING
On orders above €40
4.8/5 REVIEWS
1500 happy pet owners
FRIENDLY SUPPORT
We are happy to help
Skincare of pets using CBD from hemp
CBD can bring plenty of benefits for your pet's skin & coat
Soothe the skin of your pet
✅ Can support your dog with the skin dehydration during the change of seasons
✅ CBD can revive damaged hairs making the coat of your dog shinier and softer
✅Studies about CBD for skincare in dogs can be found in the CBD studies tab in our menu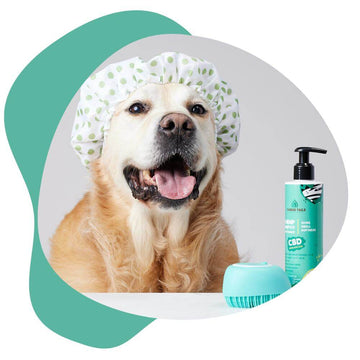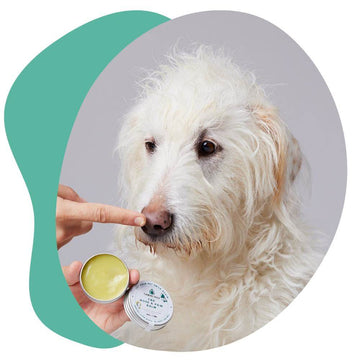 Noses & Paws of your dog
✅ Can help hydrate, repair and protect the noses and paws of your pet
✅ Can protect your pet's noses and paws against hot asphalt or salt
How does it work?
✅ Supplements containing hemp with natural CBD can help maintaining a healthy skin
✅ Cosmetics containing CBD can also help sooth your dog's skin
✅Combining both is a holistic approach to your pet's skincare routine
Trusted by hundreds of pet-owners
Already seeing results!
I have been using it for a week with my dog and I am already seeing great effects. It is an awesome product.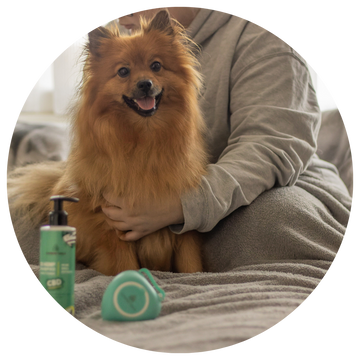 Thanks Candid Tails
My dog wants to thank Candid Tails. She is in love with the product, and so are we!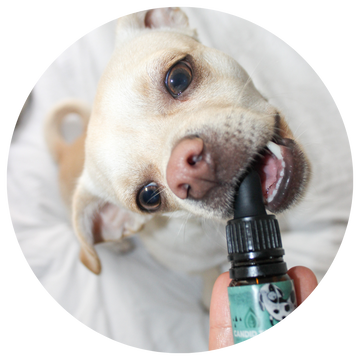 Awesome product
I've been using it for a week with my dog and I'm already seeing great effects! Awesome product!!! 😀✌🏼
Very pleased
I was very pleased that my order was shipped quickly. I was without product for a week and really noticed the difference.
Questions? We've got you covered!
Why is CBD becoming so popular for skincare?
The cosmetic industry is indeed putting CBD everywhere. This ingredient together with Aloe Vera among other ingredients of our balm helps to moisturize the skin. Promoting the soothe of the skin against itchiness and skin dehydration
When should I use the balm and when the shampoo?
When your pet has skin irritations that are easy identifiable the balm is the preferred option. For example with hotspots or cracks on the noses or paws. When skin irritations are more widespread however, or are hidden under the fur, a weekly wash with our shampoo is the better option
Can the Hemp Oil and Snacks with naturally occurring CBD help my dog or cat's skin?
Yes, CBD from Hemp can help with skin irritations and hotspots on a global level
What does the endocannabinoid system do?
The endocannabinoid system (ECS) is responsible for regulating many of our critical bodily functions. Those include emotional processing, regulating pain and inflammation, learning and memory and the immune respons and eating.
Are payments secure?
Yes, all payments are secure.
Which payment methods do you accept?
We accept Visa, Mastercard, America Express, Maestro, Shop Pay, Apple Pay and Google Pay.
Where do you ship?
We currently ship everywhere inside of Europe and the United Kingdom.
Can I make changes to my order?
Please email info@candidtails.com and we'll see what we can do for you based on the stage of your order. We're unable to cancel any orders that have been fulfilled.
Can I get an invoice?
You will be supplied with full details upon order. Should you require a full business invoice then please contact our support department.
What is your returns policy?
We cannot accept the return of any items that have already been opened or used. If you are unsatisfied with your order, please contact support and we will do our best to help.
I've not received my delivery - what do I do?
You should contact the courier, using the tracking number and they will be able to locate your package.
I received the package but it is damaged - what happens now?
Please contact our Customer Support department and they will be able to assist.