Free Returns in 30 days
Free Shipping on orders above €50
4.8/5 by 500+ customers
24/7 Support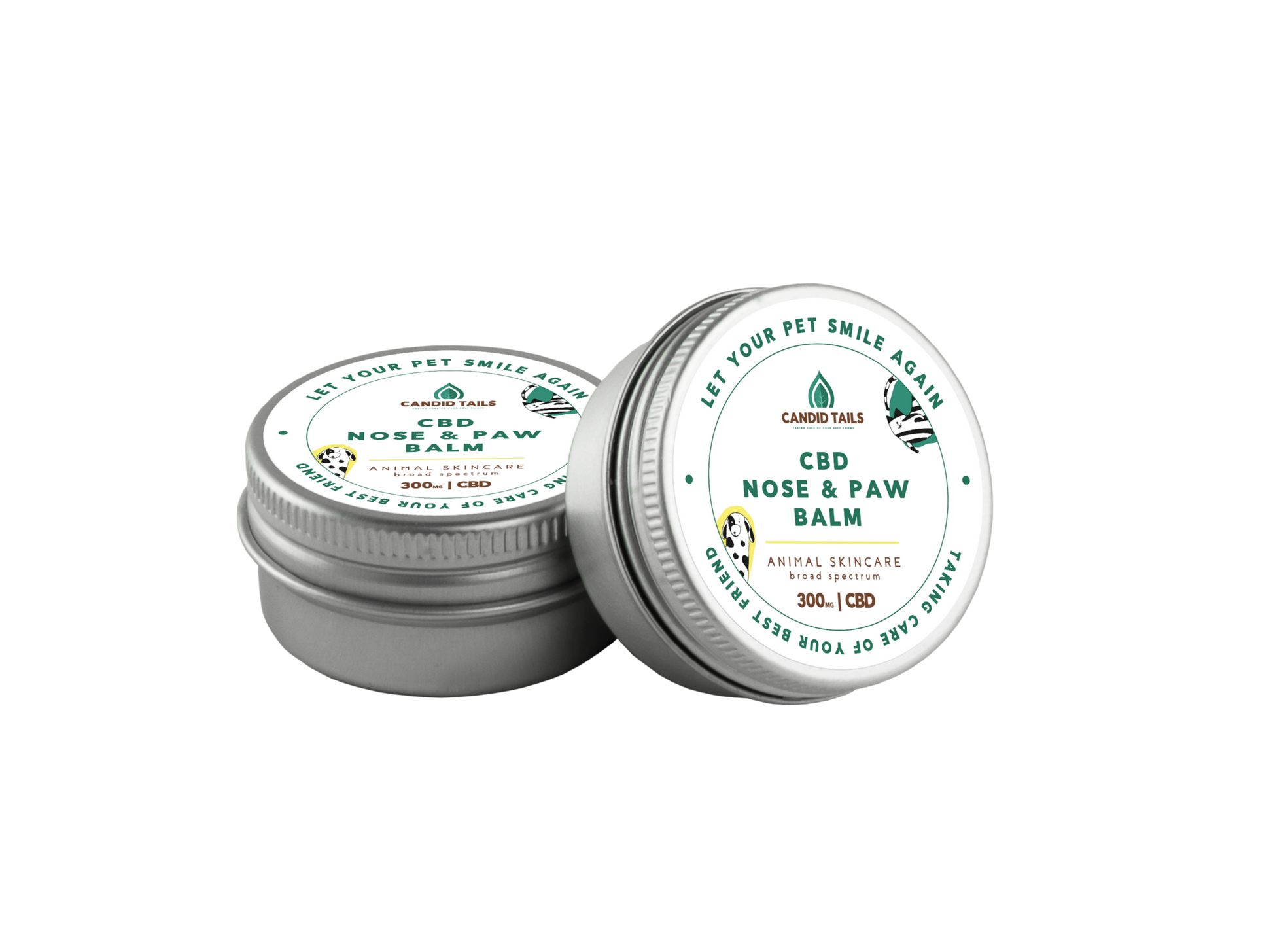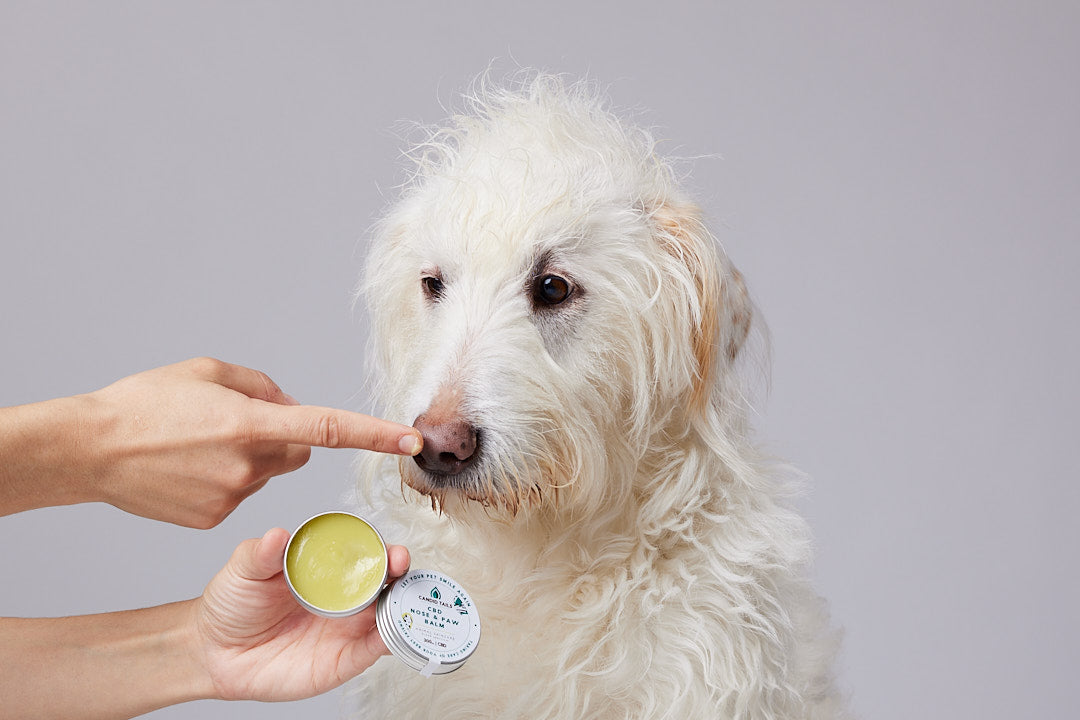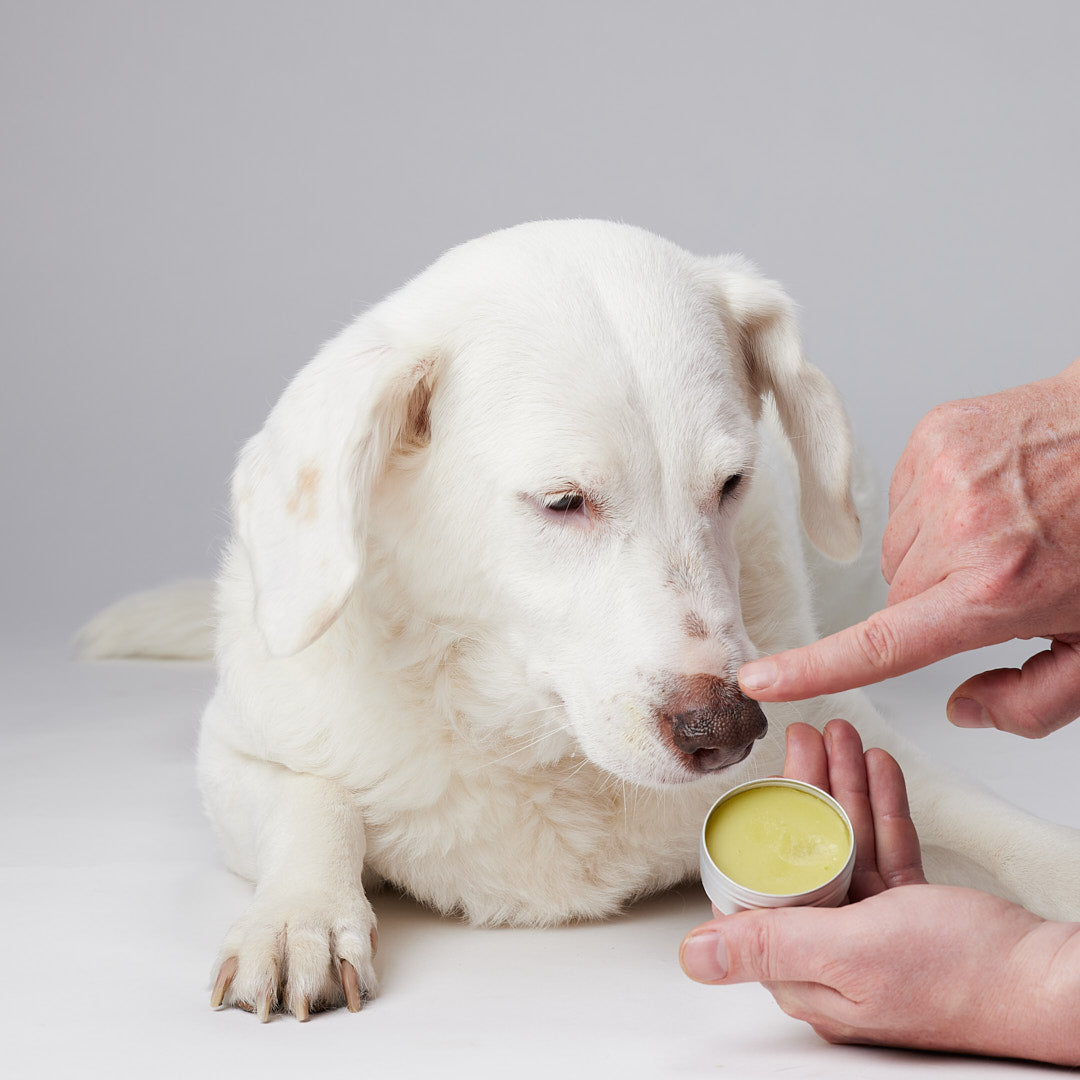 Sale price
€19,99
Regular price
€5,79
Tax included.
Our Nose & Paw balm is suitable for all breeds and ages. All ingredients are carefully selected by our veterinarian. The Balm can be used:
• For dry and cracked noses and paws
• On top of hotspots or any other area of the skin that needs hydration
• Over skin parts with lack of moisturizing
• Over skin areas where the skin needs conditioning


📦 Free returns 30 days after purchase
🚚 Delivery in 3 to 5 days business days
📫 Fits into the mailbox
Put a small layer of balm on your finger top and apply to the area to be protected. The balm absorbs very quickly.

Apply 3 times a day or as needed
CBD Nose & Paw Balm:
- Composition: Cannabis sativa Seed Oil, Medium Chain Triglycerides, Beeswax, Aloe barbadensis Leaf Juice, Mel, Cannabis sativa Leaf Extract, Tocopheryl Acetate, Rosmarinus officinalis Leaf Oil, Cannabigerol
- Instructions for use: Apply a thin layer over the desired area 2x/day. For dry and cracked skin.
- Storage: Keep out of reach of children. Avoid contact with eyes and mucosa. Store in a cool, dry place. Keep out of direct sunlight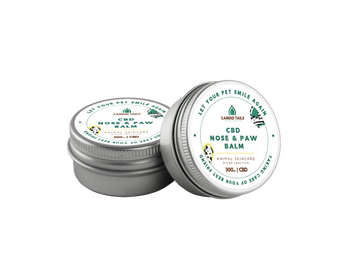 CBD Balm for Pets
Sale price
€19,99
Regular price
€5,79
Help you best friend in many ways
STEP 1
Securely purchase your CBD-based product with a few clicks.
FREE SHIPPING
Get it shipped directly to your mailbox in 3/5 business days.
4.8/5 REVIEWS
Enjoy your pet's new lifestyle, full of energy and happiness.
Benefits of our Nose & Paw balm
Crafted with the best nature has to offer including one of it's more powerful herbs: Hemp with CBD & CBG
Nose & Paw Care
✅ Hydrates and nourishes the nose and paws keeping them soft, healthy and moisturized
✅ With a thin layer of the balm, you can protect your pet's footpads from salt and heated asphalt relieving discomfort they may cause
✅ Especially useful when your pet has cracks in their noses or paws. Also works for chafed elbows and damaged ears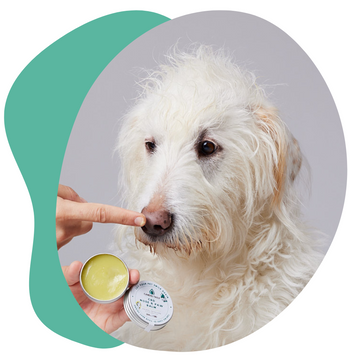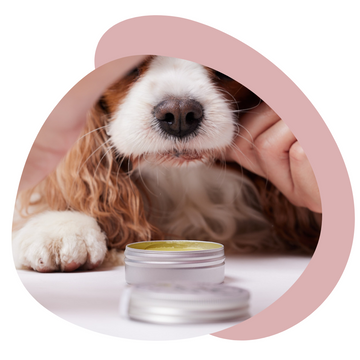 Change of seasons
✅ The Paw & Nose balm for dogs can also be used over irritated skin that needs to be moisturized
✅ The balm can hydrate areas of the affected by the change of seasons
✅ The Paw balm can condition dry skin to maintain it's natural health and feel
✅ The CBD & CBG paw Balm is composed from natural ingredients such as tocopheryl acetate that can condition and sooth the most sensitive of skin
Skin support
✅ The CBD Nose & Paw Balm can provide joint support by applying a layer of our balm on top of the affected area
✅ The Beeswax in our balm makes a film forming effect creating a thin layer on the skin's surface
✅ It's content of Beeswax can can provide protection and enhance the appearance of the skin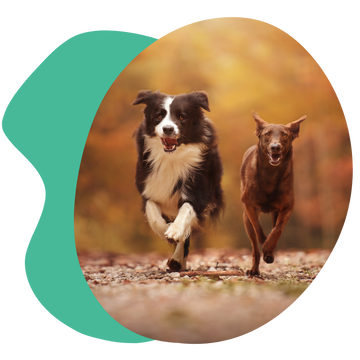 Trusted by hundreds of pet-owners
Softer paws
Since I started using the balm on Rosy's paws they are softer, I am very happy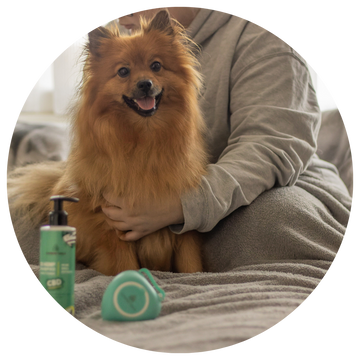 Already seeing results!
I have been using it for a week with my dog and I am already seeing great effects. It is an awesome product.
Thanks Candid Tails
My dog wants to thank Candid Tails. She is in love with the product, and so are we!
Awesome product
I've been using it for a week with my dog and I'm already seeing great effects! Awesome product!!! 😀✌🏼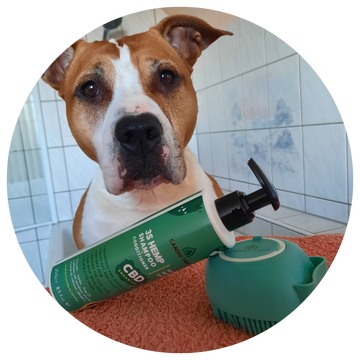 Very pleased
I was very pleased that my order was shipped quickly. I was without product for a week and really noticed the difference.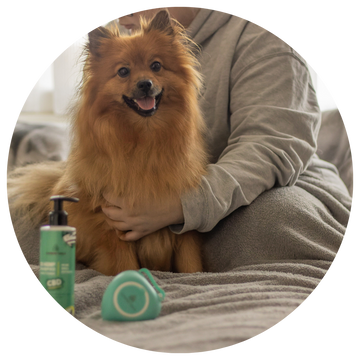 CBD Balm
Hemos estado usado el bálsamo para la piel y heridas de un perro que acabamos de acoger y antes su piel era pura costra y heridas y su pelo estaba lleno de caspa por culpa de las mismas costras. Desde que lo empezamos a usar su piel está mucho más suave e incluso ya no tiene caspa. Lo recomiendo al 100% ya que ha tenido resultados muy reales y ningún otro producto ha funcionado como este.
CBD balm
Enorm blij met deze balsem dankzij Troetels Ramsel.
Een paar x per week aanbrengen in de plooi boven de mopsneus en finito jeuk en irritatie.
👍🏼☀️
É muito bom para as patinhas
Desde que comecei a meter as patinhas da Rosinha estão mais suaves, estou muito satisfeita
Questions? We've got you covered!
Why is this nose & paw balm different then other paw balms?
We have a broad set of natural ingredientes together with cannabinoids such as CBD & CBG derived from Hemp. These helps strengthening the protective layer and can help regenerating skin for when the noses and paws have cracks. Furthermore, the CBD & CBG give the balm additional functionalities not found in other balms
Which other functionalities does this dog balm have?
Thanks to the CBD & CBG this balm can also be used to alleviate discomfort on the skin. It can thereby also be used on so called "hotspots" and for other skin irritations
What does the endocannabinoid system do?
The endocannabinoid system (ECS) is responsible for regulating many of our critical bodily functions. Those include emotional processing, regulating pain and inflammation, learning and memory and the immune respons and eating.
Which Payment methods are accepted?
We accept Visa, Mastercard, America Express, Maestro, Shop Pay, Apple Pay and Google Pay.
Where do you ship?
We currently ship everywhere inside of Europe and the United Kingdom.
Can I make changes to my order?
Please email info@candidtails.com and we'll see what we can do for you based on the stage of your order. We're unable to cancel any orders that have been fulfilled.
Can I get an invoice?
You will be supplied with full details upon order. Should you require a full business invoice then please contact our support department.
What is your returns policy?
We cannot accept the return of any items that have already been opened or used. If you are unsatisfied with your order, please contact support and we will do our best to help.
I've not received my delivery - what do I do?
You should contact the courier, using the tracking number and they will be able to locate your package.
I received the package but it is damaged - what happens now?
Please contact our Customer Support department and they will be able to assist.
RETURNS AFTER 30 DAYS
No questions asked
FREE SHIPPING
On orders above $40
4.8/5 REVIEWS
By 500 happy pet owners
24/7 SUPPORT
We are happy to help