Candid Tales
Paco: the sweetest lazy dog
by Alex De Cort on Sep 29, 2021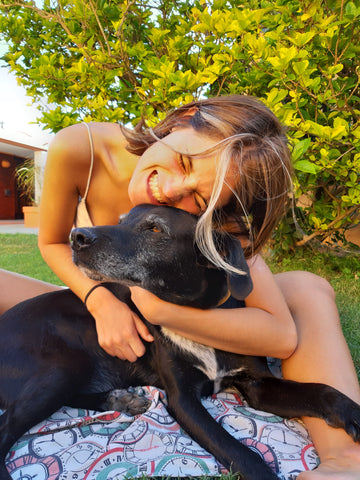 This is Paco but ... Who was this dog before he was Paco?
This little friend lived in a campsite in a small town in Argentina, near the capital.
Who knows what his name was before, or even if he had one.
The animal shelter in the area received a message demanding urgent attention: the black dog at the campsite was causing problems among the guests and was going to be euthanized. Luckily, they arrived on time.
His photo appeared, back in 2013, on the shelter's Facebook page. Julieta did not have in mind to adopt another puppy (they already had one at home) but she felt something inside just by seeing his face. Two days later, the black puppy already had a plate and a bed in the house.
Paquito was a fearful dog of 1 and a half years, he did not trust people much, he did not know how to receive caresses or play with the ball (he never learned to do it, no matter how hard they tried).
After a few weeks at home with Julieta and her family, the black dog from the campsite showed his full happiness. He learned to receive love and attention (he became addicted to it, I dare to say) and was able to put his sad past behind him.
He loved going for a walk around the town's lagoon and, of course, diving into it to cool off after running around everywhere. But his favorite activity was sitting in the passenger seat and cruising around town (head out, of course). Paquito realized that in this way he could enjoy the air, the sun and gossip at the neighbors' dogs, but without any effort!
Julieta and Paco spent entire afternoons lying by the sun, running around the lagoon and playing with other dog and human friends.
But the years do not come alone ...
Julieta and her family began to notice that Paco no longer had as much energy as before. He no longer went swimming in the lagoon or ran the distances that he was so used to run. He looked listless, he walked a bit sideways and sometimes he didn't even want to go out for a walk. He liked it so much!
The vet discovered that Paquito was suffering from arthritis, a very common joint disease in dogs once they start to get older. Arthritis deforms the joints, making them stiffer and causing excruciating pain.
He prescribed pills and special balanced meal for this disease. Paquito was still the same.
Months passed and the family was already giving up, accepting that time had passed and their beloved friend was going to go, little by little, losing his strength.
But this story has a happy ending.
Julieta's sister, Malen, was one day buying dog food at the vet when she came across a tiny bottle with a dropper at the end. "CBD oil", the packaging said.
Malen knew that CBD was a natural remedy, used in people for anxiety, stress and pain, but she would never have thought that it could also be applied to pets. What joy it gave her!
After a few weeks after Paquito started using CBD oil, the family felt like they had traveled back in time.
At the age of 10, they saw him again wanting to walk, run and play. And what better than a dip in the lagoon to cool off, right?
The CBD oil managed to soothe the old man's pain in an exceptional way, and above all, without side effects, being a natural product.
Nowadays, Paco continues to run and play with his dog brother and of course, swimming in the lagoon!
Like Paco, there are thousands of dogs who do not know love and end up dying in a kennel. Adopt, don't buy.