Blog
Las Fallas, a dream for people, a nightmare for pets
by Alex De Cort on Mar 15, 2022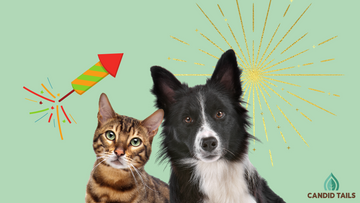 "Las Fallas" is a Spanish festivity, celebrated in the city of Valencia. It combines tradition, satire, and art. The Fallas week, which is from the 15th – 19th of march, fills the streets with thousands of different activities: traditional (and not so traditional) music, tons of gunpowder, emotive religious acts, paellas in the street…  
That all sounds like a lot of fun right? Well, it turns out that our pets are not a big fan. In Valencia alone, there are around 93,000 dogs and 7,000 cats who suffer major stress and fear during this special week. Here we talk about the three main reasons our pets can have a hard time during this celebration. 
Pyrotechnics (Mascletás)
During Fallas we can hear very loud firecrackers, fireworks and the famous "mascletás" at all times during the week. 
"Mascletás" are a concert of explosions of gunpowder with a unique sound that takes place daily all-around Valencia, using around 120kg of gunpowder for each one. 
This causes major stress to pets, who may try to hide or even run away. 
Loud music
Music is very important in Valencian culture. Orchestras and bands go all around the city's streets at all hours of the day cheering everyone and accompanying the "falleros". 
There is a party at every corner, which can make our pets anxious and scared, because they don´t know what is going on. All these makes it difficult for them to sleep. 
Big crowds of people
In 2019, Valencia welcomed around 930,000 tourists daily in the week of Fallas. More than 6 million in total. 
Due to COVID-19, Las Fallas were not celebrated in 2020 and 2021. This year, Las Fallas are back, with no restrictions or capacity control. This means lots of noise and unfamiliar faces for your pet. 
At Candid Tails we are always taking care of your best friend, here are some of the actions you can make to help your pet feel better and calmer during these stressful times: 
Prepare a place inside your home where they can feel safe and  comfortable.

 

Keep your windows and blinds closed to keep out the noise as much as possible. Play some relaxing music.

 

Candid Tail´s Petibidiol CBD oil is perfect to help relieve stress and anxiety during this time. Click here to check it out. We also delivered bottles to several pet stores in Valencia so you can help your dog with acute stress and don't need to worry about delivery times. (Click here to find a store in Valencia)

 

In case of a phobia episode due to extreme fear to pyrotechnics make sure to contact your vet. Symptoms include vomit, diarrhea, tremors, and panting.