Free Returns in 30 days
Free Shipping on orders above €50
4.8/5 by 500+ customers
24/7 Support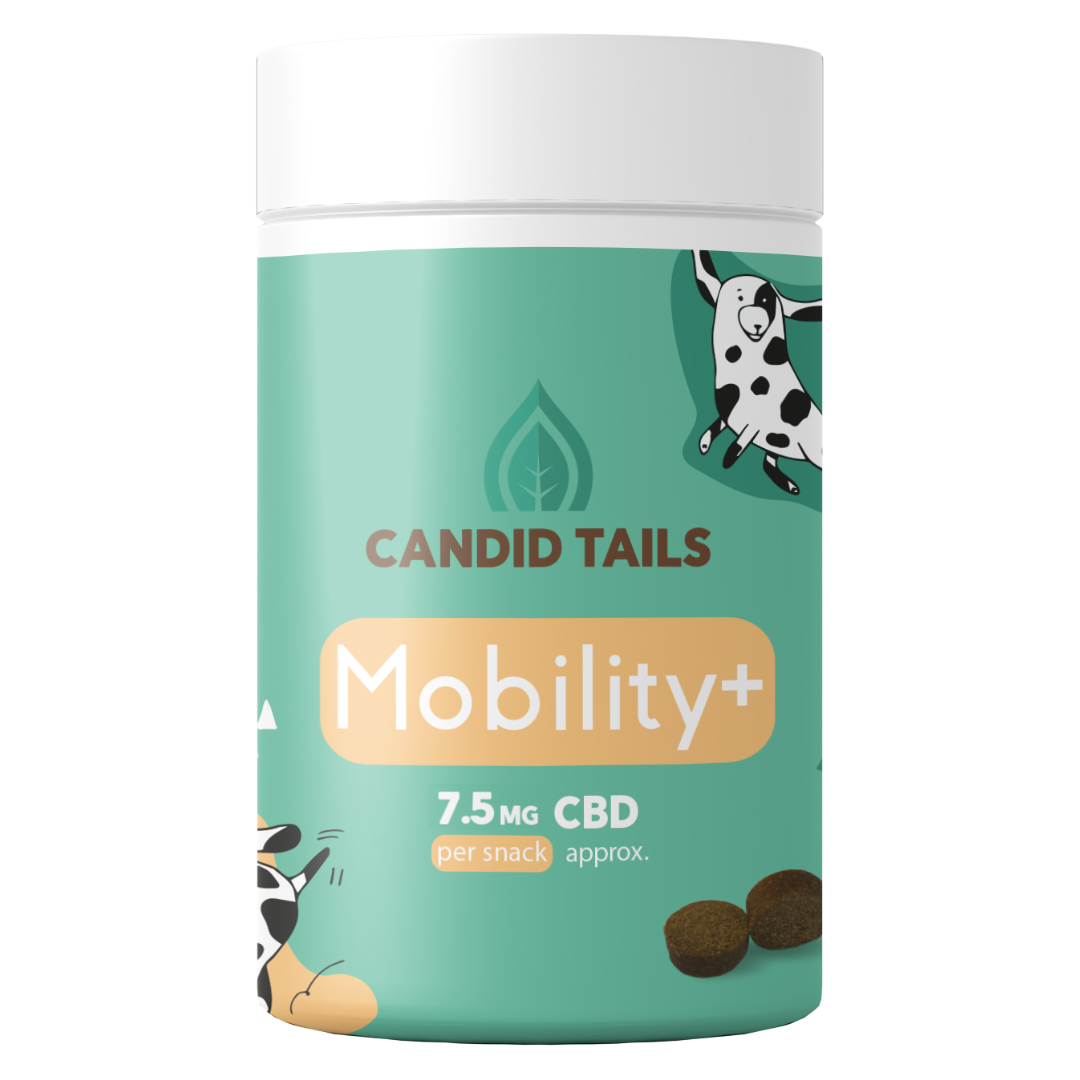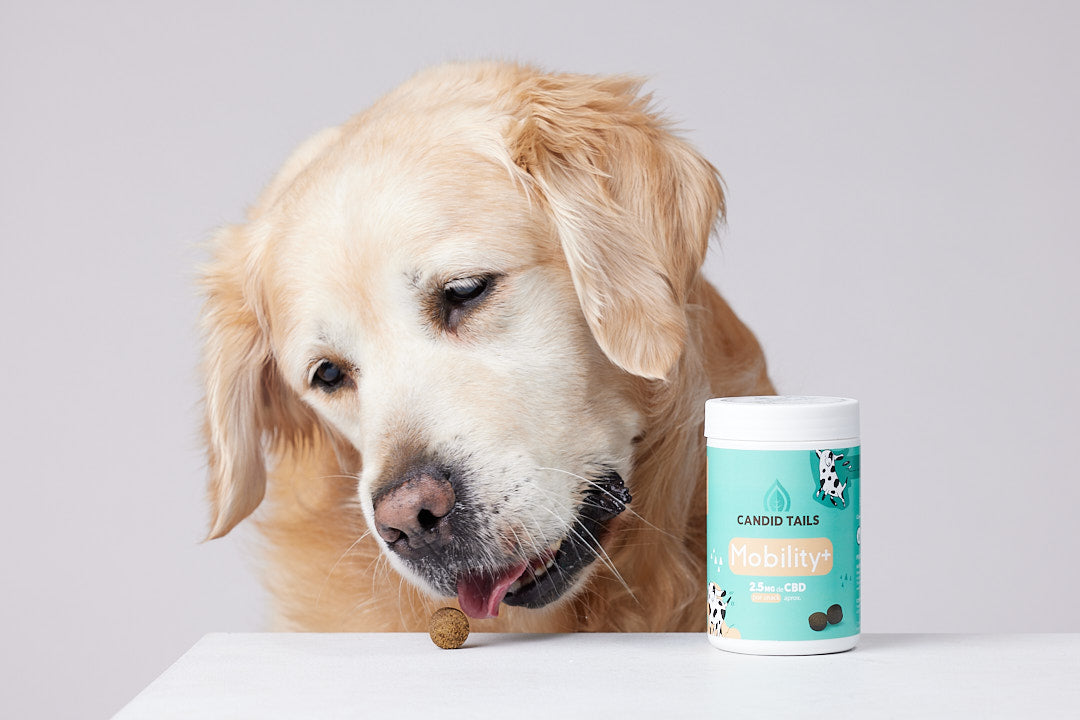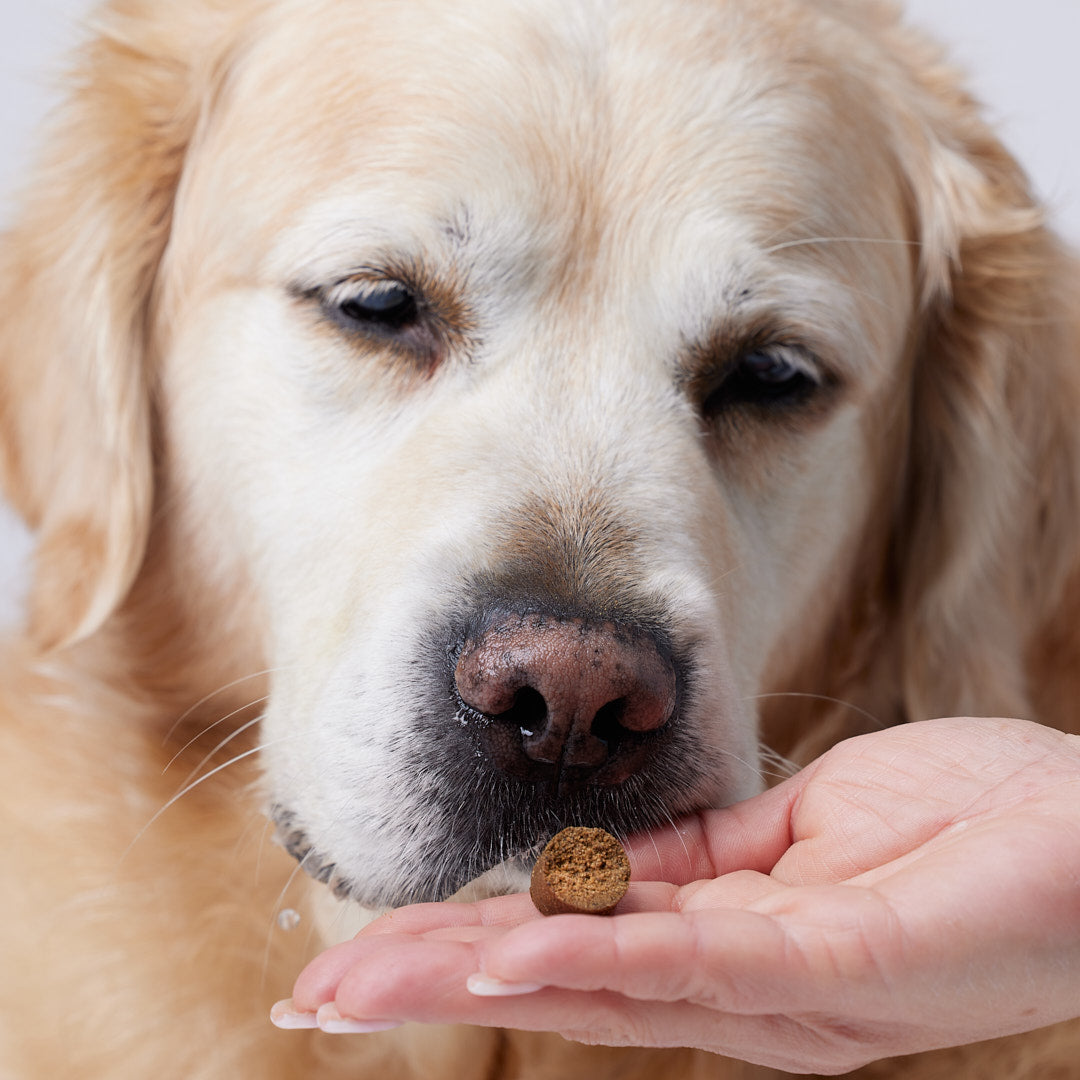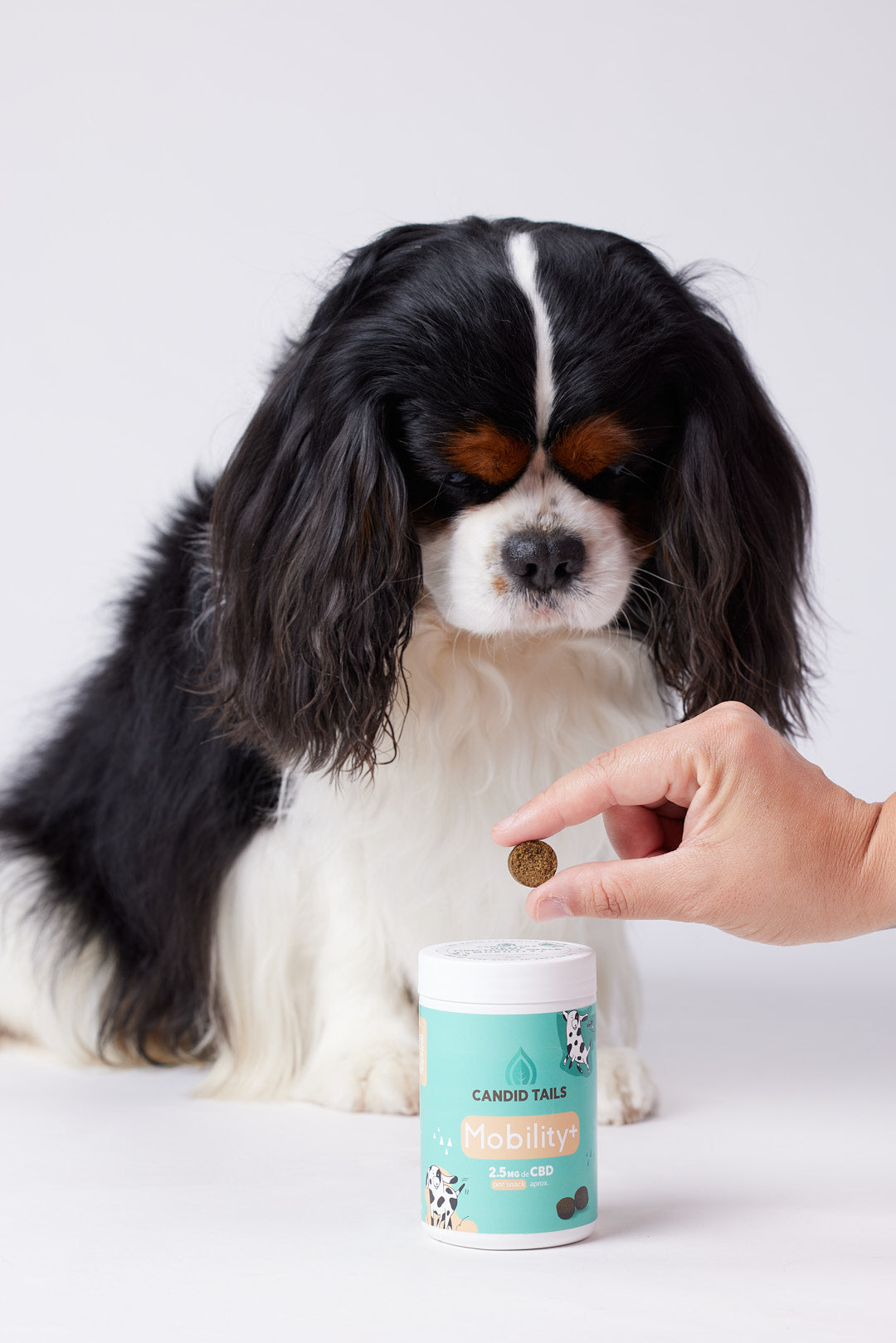 Mobility+ Dog Snacks - 150gr
Sale price
€42,50
Regular price
Tax included.
Mobility+ is a natural dog treat that uses mother natures finest selection of herbs 🍃and chondro-protectors

🌿 Hemp
🌾 Turmeric
🏵️ Glucosamine
🌱 Chondroitin
🐶 MSM

Each snack contains naturally occuring CBD and is based on insect protein. All snacks are hypoallergenic and sugar free.
It is what we consider the perfect healthy snack for dogs dogs over 7+ years who wants to keep running and playing for long. Nevertheless, also active young dogs can benefit greatly from this supplement

📦 Free returns 30 days after purchase
🚚 Delivery in 3 to 5 days business days
📫 Fits into the mailbox
● 5kg - 9kg: 1 Snack
● 10kg - 19kg 2 Snacks
● 20kg - 29kg: 3 Snacks
● 30kg - 39kg: 4 Snacks
● 40kg - 50kg: 5 Snacks

Complementary Feed for Dogs
- Composition: Sweet potato, vegetable glycerin, insect protein (18%), hemp flour (6%), hemp protein, chicken liver hydrolysate (3%), hemp seed oil (2%), herbal mix (2% of chamomile, rosemary, sage, nettle, fennel), carrot powder, parsnips powder. Additives: rosemary extract. Analytical constituents: protein 11.5%, crude fat 7.5%, crude fiber 2.3%, crude ash 3.0%. Additives: Rosemary CO2 Extract. Analytical components: Crude protein 11,5%, crude fat 7,5%, crude fiber 2,3%, crude ash 3.0%
- Storage: This product is not for human consumption. Store in a cool, dry place away from sunlight
Manufactured by: CZ802328-01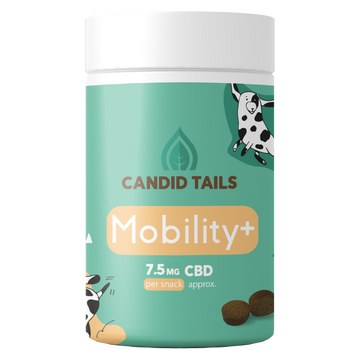 Mobility+ Dog Snacks - 150gr
Sale price
€42,50
Regular price
Help you best friend in many ways
STEP 1
Securely purchase your CBD-based product with a few clicks.
FREE SHIPPING
Get it shipped directly to your mailbox in 3/5 business days.
4.8/5 REVIEWS
Enjoy your pet's new lifestyle, full of energy and happiness.
Benefits of our Mobility+ natural dog treats
Crafted with the best nature has to offer including several of it's most powerful herbs
Joint support for dogs
✅ Mobility+ treats can be used for senior dogs with a reduced desire to move
✅ Also, sportive and very active dogs can benefit from Mobility+ as this natural dog treat will help maintaining the playfulness of your furry ones while they get older
✅ Mobility+ treats are specially developed for providing joint support and maintaining the natural mobility of your dog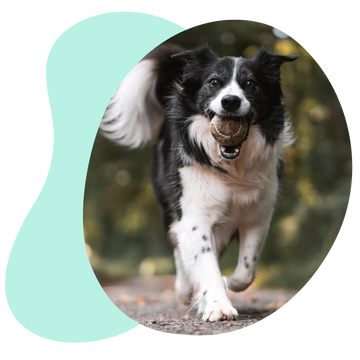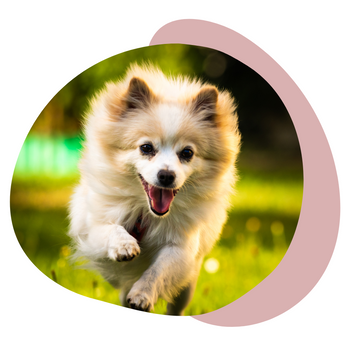 Why our Mobility+ Snacks?
✅ Cannabinoids interact with the endocannabinoid system of your dog which can provide great joint support
✅ Turmeric has been praised for it's soothing effect
✅ Chondroitin helps in maintaining the thickness of your dog's natural joint lubrication and is an important cartilage building block
✅ Glucosamine is often used as joint aid in dogs due to its potential to rebuild damaged articular cartilage
✅ Contains protein derived from hemp and insects for a smaller ecological footprint
✅ Psyllium husk powder to help with digestion of your dog
Why our Mobility+ Snacks?
✅ This product contains hemp flour which naturally contains CBD
✅ Our Mobility+ snacks contain glucosamine making it a perfect supplement for your pet
✅ They contain chondroitin making it a great complement for older dogs' food with stiffness in their joints
✅ This snack contains insect based proteins considered a novel protein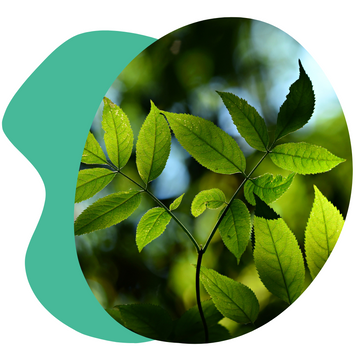 Trusted by hundreds of pet-owners
A drastic change
I am so glad my order was shipped quickly. I was without product for a week and really noticed the difference in its movements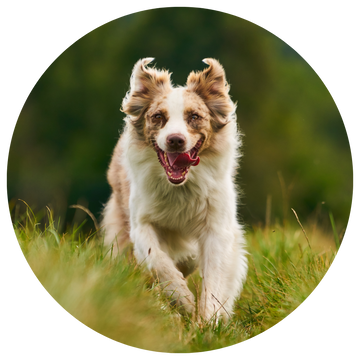 Already seeing results!
I have been using it for a week with my dog and I am already seeing great effects. It is an awesome product.
Thanks Candid Tails
My dog wants to thank Candid Tails. She is in love with the product, and so are we!
Awesome product
I've been using it for a week with my dog and I'm already seeing great effects! Awesome product!!! 😀✌🏼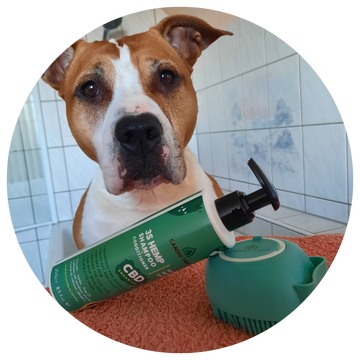 Very pleased
I was very pleased that my order was shipped quickly. I was without product for a week and really noticed the difference.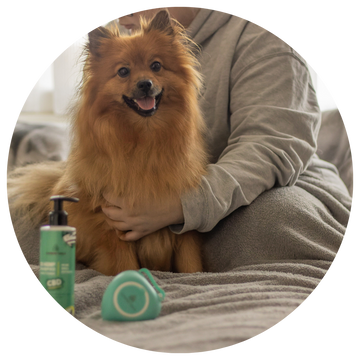 Questions? We've got you covered!
What makes these treats better then other joint aid treats?
While most others joint aid treats use one or two ingredients that support the joint function, we use 4 that are complementary to each other. This way we have created a very complete dog treat that will optimally maintain healthy joints of your dog
Can I use Hemp Oils with CBD on top of these treats?
Yes, the feeding recommendations are based on the daily amount of glucosamine and chondroitin. More CBD is well tolerated.
What does the endocannabinoid system do?
The endocannabinoid system (ECS) is responsible for regulating many of our critical bodily functions. Those include emotional processing, regulating pain and inflammation, learning and memory and the immune respons and eating.
Which Payment methods are accepted?
We accept Visa, Mastercard, America Express, Maestro, Shop Pay, Apple Pay and Google Pay.
Where do you ship?
We currently ship everywhere inside of Europe and the United Kingdom.
Can I make changes to my order?
Please email info@candidtails.com and we'll see what we can do for you based on the stage of your order. We're unable to cancel any orders that have been fulfilled.
Can I get an invoice?
You will be supplied with full details upon order. Should you require a full business invoice then please contact our support department.
What is your returns policy?
We cannot accept the return of any items that have already been opened or used. If you are unsatisfied with your order, please contact support and we will do our best to help.
I've not received my delivery - what do I do?
You should contact the courier, using the tracking number and they will be able to locate your package.
I received the package but it is damaged - what happens now?
Please contact our Customer Support department and they will be able to assist.
RETURNS AFTER 30 DAYS
No questions asked
FREE SHIPPING
On orders above $40
4.8/5 REVIEWS
By 500 happy pet owners
24/7 SUPPORT
We are happy to help